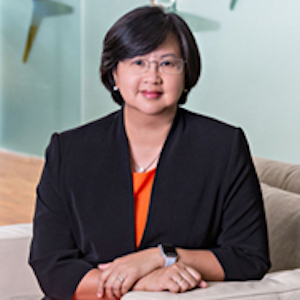 Prof Winnie Chee received her BSc (Hons) in Dietetics, MSc and PhD in the field of nutrition science. During her 27 years in academia, she has held several senior positions and is currently the Dean of the School of Health Sciences in the International Medical University, Kuala Lumpur. Professor Chee has extensive experience in academic management and leaderhsip, including curriculum design, delivery and assessment for the IMU dietetics programme since its inception in 2008. She chairs curriculum and assessment committees in IMU and is academic advisor to several local universities conducting dietetics programme. She is a member of the Working Committee for dietetics competencies under the ICDA from 2017-2019. Besides her academic role, Prof Chee has also served on many national committees including those setting medical nutrition therapy for clinical practice guidelines for osteoporosis and Type 2 diabetes, Recommended Nutrient Intakes (for calcium intake), Dietary Guidelines and Healthy Plate Model for Malaysia. Her research focus primarily on the nutritional aspects of bone health, Type 2 diabetes, obesity and chronic kidney disease with the objectives to understand the nutritional determinants and interventions to improve nutrition status in these areas. She has published widely in peer reviewed journals and given presentations as invited speaker in national and international conferences including Asia-Ocenia Obesity Congress, International Diabetes Federation, International Congress of Dietetics, Asian Congress of Dietetics and International Osteoporosis Foundation. Professor Chee has been recognised for her service to nutrition and dietetics by being appointed Council member of the Malaysian Allied Health Professions Council, Fellow of Malaysian Dietitians' Association and she is the current President of the Malaysian Dietitians' Association. She received the Wimpfheimer-Guggenheim International Lecture Award in 2015 from the Academy of Nutrition & Dietetics, USA. She is also a practicing dietitian at IMU Healthcare.
27 June 2022 (Day 1)
28 June 2022 (Day 2)
Time
Session

09:00

09:45

12:00

13:00

Fight With the Right Tool: The Role of Perioperative Nutrition on Surgery Outcome

Effects of Perioperative Oral Nutrition Supplementation in Patients Undergoing Elective Surgery for Breast and Colorectal Cancers

15:00

16:00

EPAs - The Way Forward for Competency in Dietetics

COVID-19 and Dietetics Education - Opportunities for Innovation or Peril?